So I got some updates for the site we're going to skip the "it's been a whi-" and just move on.
A lot has gone down since the last update, including getting a fancy new position at Ford which I am greatly enjoying. That has made things a bit hectic but the last few weeks have gone by lightning-quick. I am really loving it.
I've also made the decision to work more on professionalizing my portfolio of soccer kits. Will it lead to a profession switch? Unlikely. Could I potentially make a few bucks off it? Maybe. Honestly, I'd love to see some of my designs become real. That would be absolutely fantastic.
If you read my twitter feed, which I don't necessarily recommend Mum, I often post stuff while working including some snapshots of a big on-going project I've started.
What is this project; you ask.
Well, I am doing a big world building project set in the same world as my novels. It's a big world cup write up, and it'll have news articles, team profiles, stadium profiles, potentially player profiles, and a whole boat load of kits. At least 96 of them: home and away for 48 teams.
Probably one of my favorite shirts thus far, not sure why. Just fun. pic.twitter.com/QVCuI0GRkD

— N H Kendall (@pirmas697) March 20, 2017
I've already got 48 crests made, though I am not 100% happy with all of them. They were quickly thrown together with stock heraldry images from Wikimedia. Already I have about 18 kits finished, so I have quite a bit of work to do. And that's okay, I'm planning on this taking most of the summer.
It'll be fun and I'll make sure to have a page to showcase it. Not sure how, but I got some ideas. I hope that everyone else will enjoy it half as much as I have so far.
The long-shots: pic.twitter.com/34qVEobYRy

— N H Kendall (@pirmas697) March 25, 2017
There's a lot to post and explore so I'll only have a few slices here.
Done on a whim for Paradox Interactive (not popular with the studio manager, Johan):
Something I threw together for my good friend @BjornB_pdx over at @PdxInteractive pic.twitter.com/4N2dt0LDdN

— N H Kendall (@pirmas697) March 23, 2017
A little idea for Bristol Rovers FC:
.@Terry_Nutkin Be careful what you ask for. pic.twitter.com/l5Q3SJ6seF

— N H Kendall (@pirmas697) March 25, 2017
And of course Detroit City FC:
Quick White -> Gold swap out. pic.twitter.com/pyYWk3hiX7

— N H Kendall (@pirmas697) March 7, 2017
Can Twitter even handle all this @DetroitCityFC goodness? pic.twitter.com/dOBV70dCZd

— N H Kendall (@pirmas697) March 7, 2017
Another quick mock-up for a friend: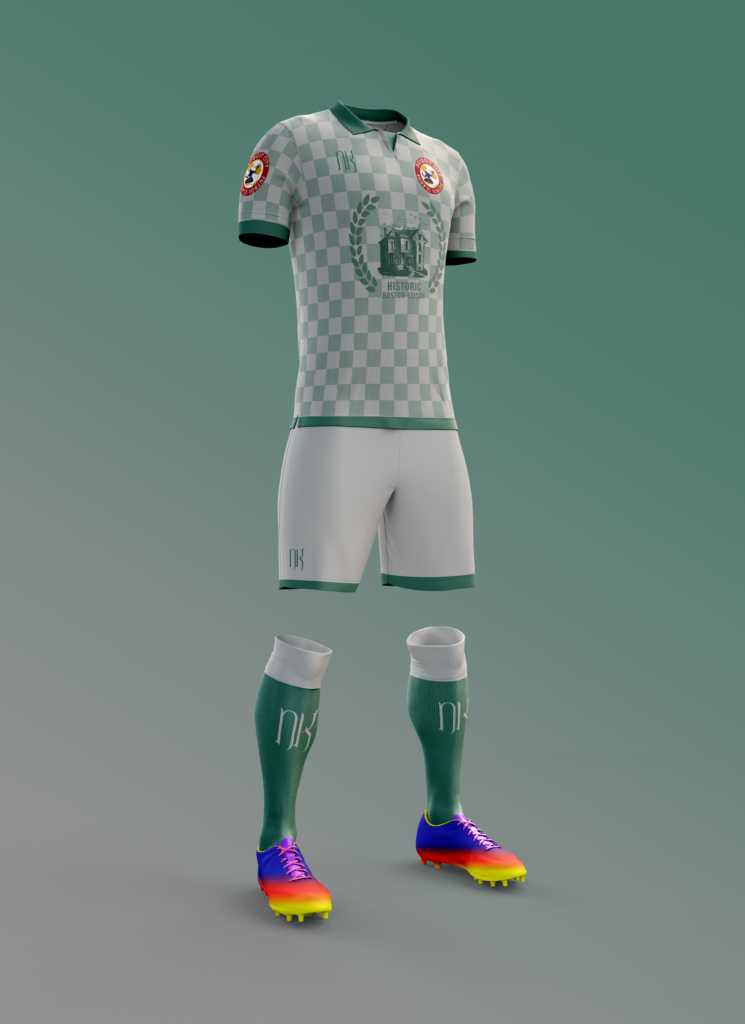 If you have any ideas or criticism, reach out on twitter. Currently I take requests on an impulse-based sort method. Not sure how long that'll last, though. As the Detroit City season quickly approaches, my free time will soon dissolve to nothing.
On the flip side some news regarding my writing. I have finished the rewrites of book 2, finally! It has grown by about 10,000 words to 137,000. I think the pacing has been improved and I'm happy with it in general. It'll definitely need a final smoothing that'll come once I get the drafts for books 3 and 4 done, which I am going to start in about ten~fifteen minutes when I am done here!
I'm pretty much actually being productive, which is great. It feels great to be getting so much done.
Of course, as I write this, it is a quarter to eight and I've been trying to get this done since before four… then I got distracted with the Bristol kits.
So I am going to sign off and get back to writing. I got a long way to the expected 175,000 words of book 3.
Cheers, everyone.