So, as I type this, my trip to England is coming to a close, but it isn't quite over yet. I still have a trip down to London tomorrow and Monday (the 4th) the flight back to Detroit. I think back on the last week and a half and I'm exhausted. I wouldn't've done it any different, but it is amazing that I was able to pull it off. Newcastle, Glasgow, Kendal; all absolutely lovely places and I would go back in a heartbeat, especially to just explore or enjoy the countryside or history a little bit more.
It's been a while since I've written, so I'll back up a bit. On the 28th, I jumped in a train or three and headed from Newcastle, on the east side of the island to Kendal, in the west.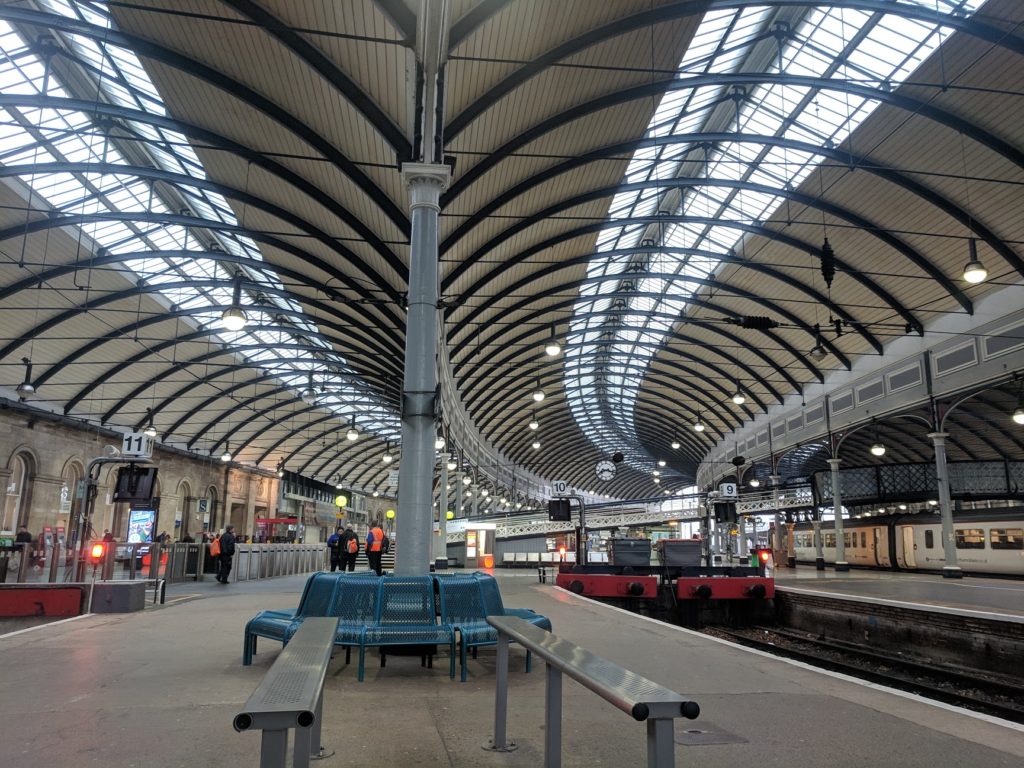 I say good bye to Newcastle central and then headed out on a journey that involved three trains, delays, someone trespassing on the tracks, nearly boarding the wrong train, nearly waiting for the wrong train, then finally getting to the right train. Waiting for 30 minutes in the cold for the last train… which I road for 5 minutes.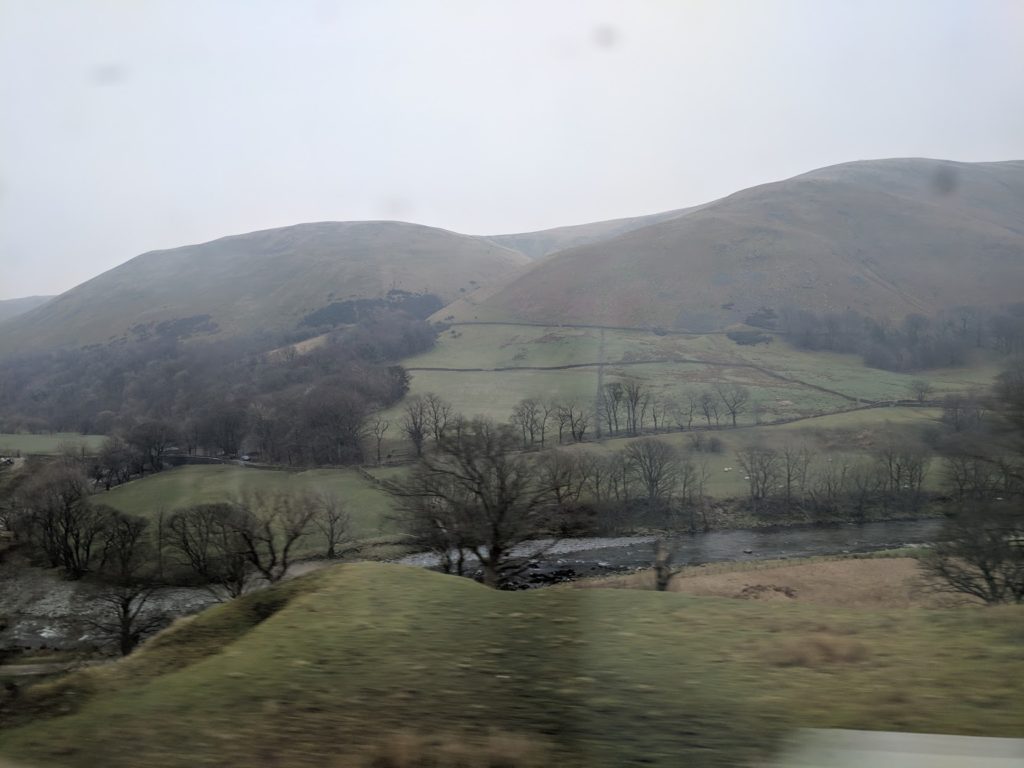 But I was in Kendal and I set about exploring the city and the surrounding countryside. I had trouble capturing the whole city from above, but I did what I could by climbing up a tall hill overlooking the city, where the castle is, and doing my best.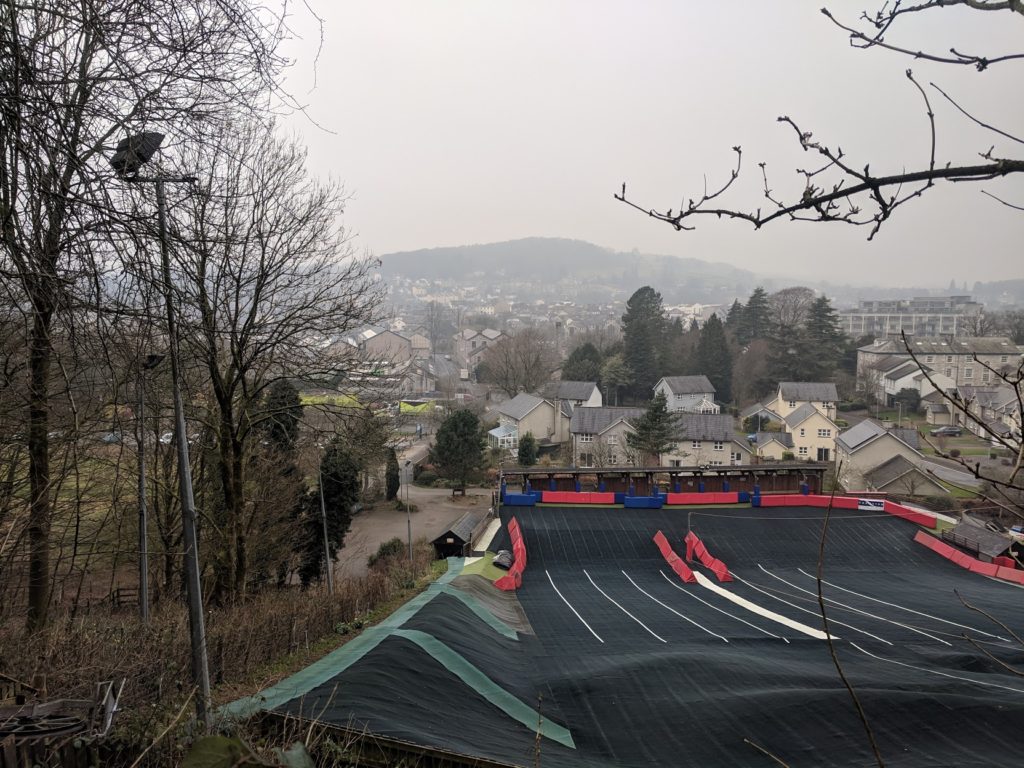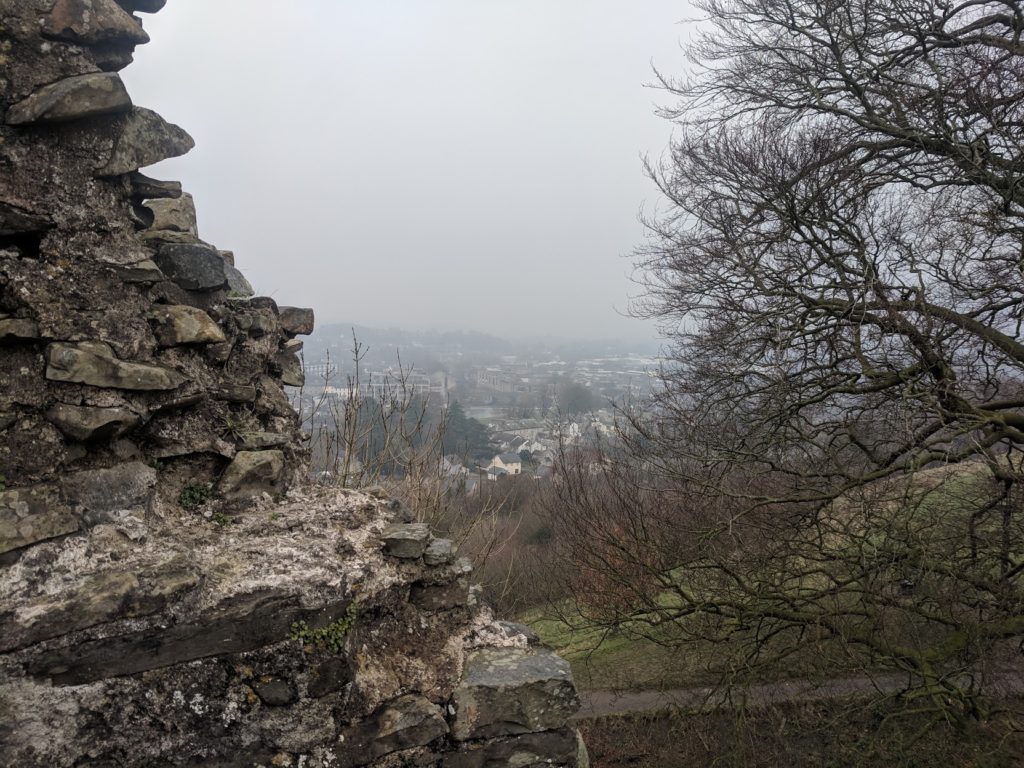 The second picture is actually of my hotel from the castle tower. The castle and hill were beautiful, but then I went about exploring the town proper the next day, and found it to be much larger than I expected and much more bustling. 30,000 plus live in the area, much more than I thought.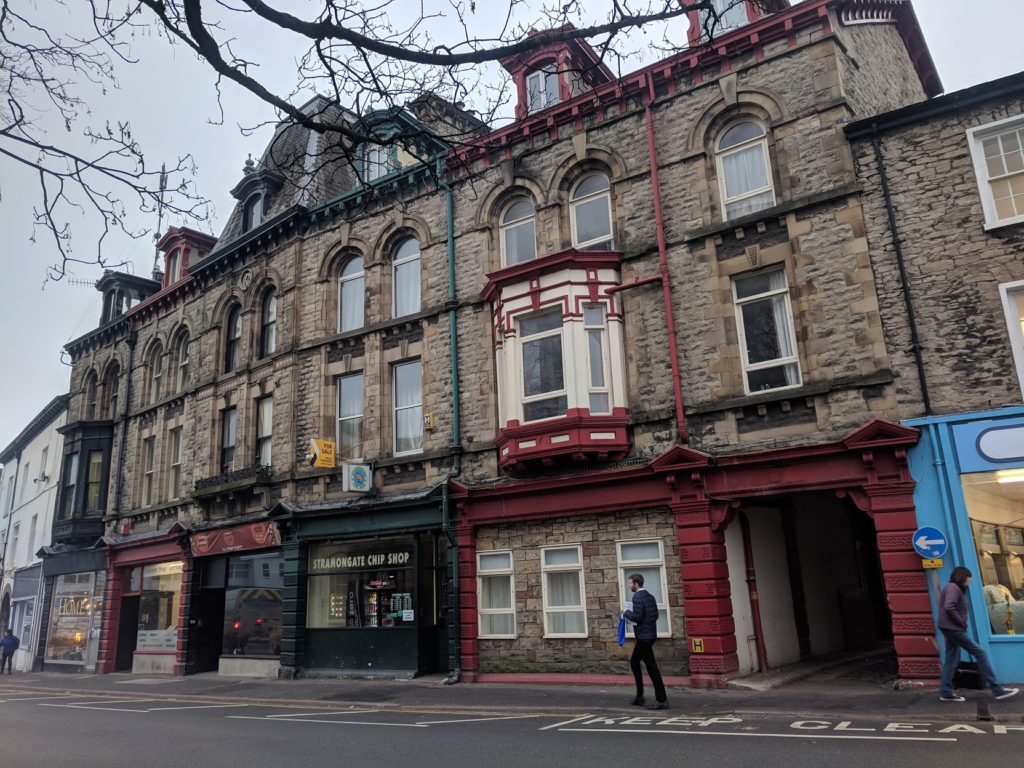 Most of the city is made of this grey stone, giving Kendal it's nickname, the Auld Grey Town. But many buildings are rather colorful, like these ones here.
It's also a town of alleyways and yards in the middle of blocks of buildings. Down one of these alleyways was a little distillery, which of course I popped my head into.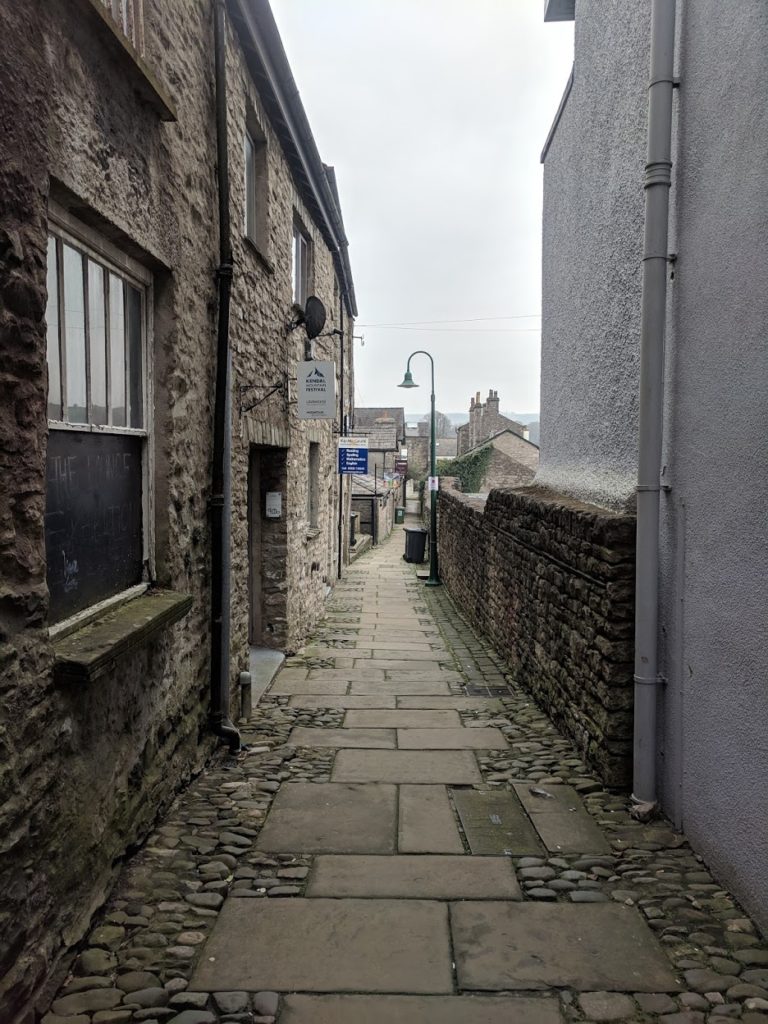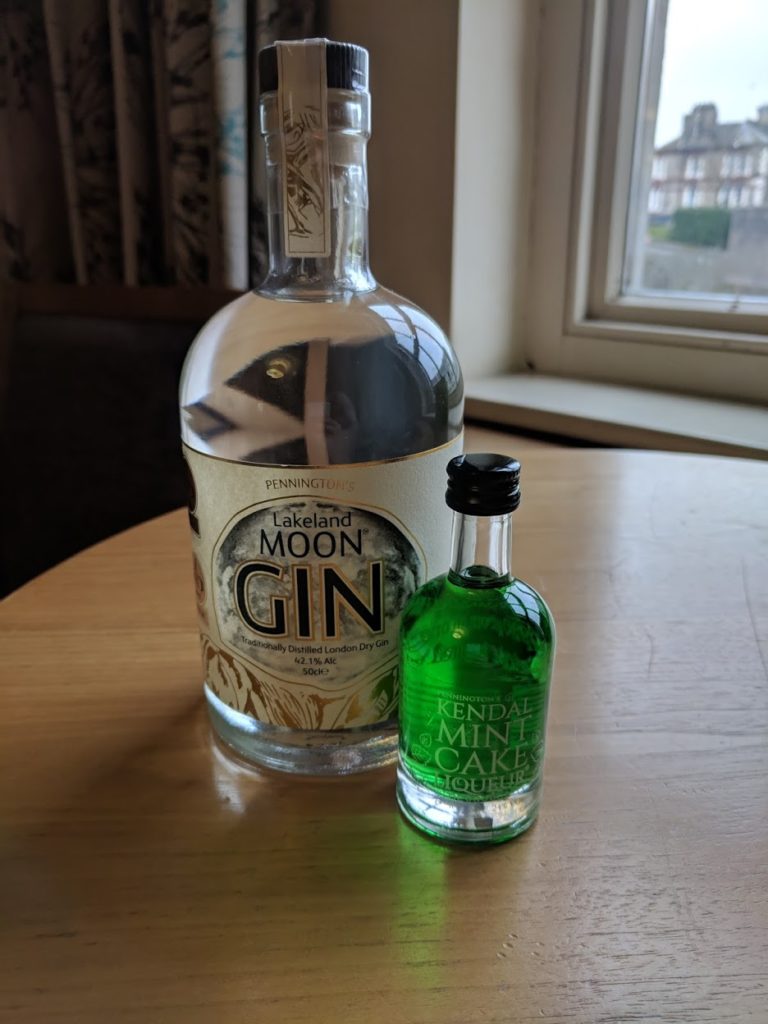 And the city had some old-fashioned public or free houses, including the highly recommended and eclectic Ring O' Bells, where, if you're lucky, you get to meet Kendal's biggest character: Jeff from Swindon.
And yes.
I met Jeff from Swindon/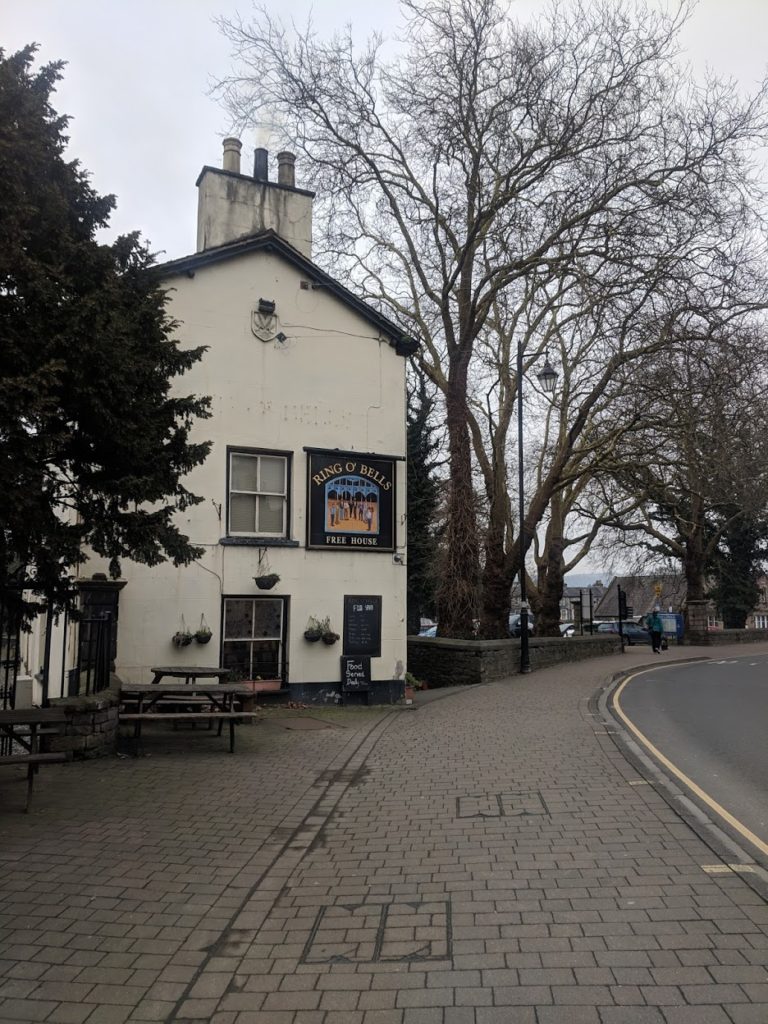 The next day, today as of writing, was my final match of the trip: Kendal Town FC vs Market Drayton Town FC. Kendal Town is in a bit of a bind. Manager walked with the first team after issues getting paid by the club came to light. There's a fissure between fans who want the chairman to step down and those that either don't care or don't blame him for the issues facing the club. As of writing the current manager might be the one paying the players, and from what I could gather, he wasn't a manager so much as a wealthy gentleman who fancied himself one. Kendal Town is in the relegation fight, and a relegation at this level of football is basically into obscurity. Every game is vital. Every point is needed.
Luckily, I'm three for three when rooting for the homeside.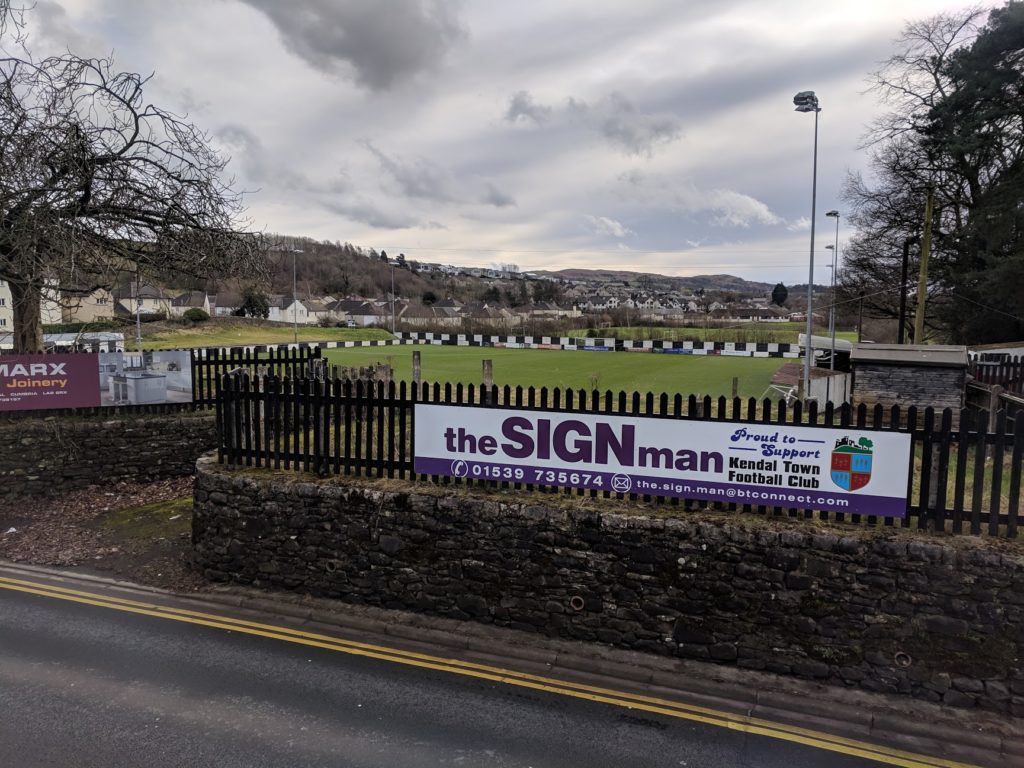 This pitch is a bit different from the previous two: tucked away in the hills behind the castle and a graveyard, it'd be easy to miss if you weren't looking for it.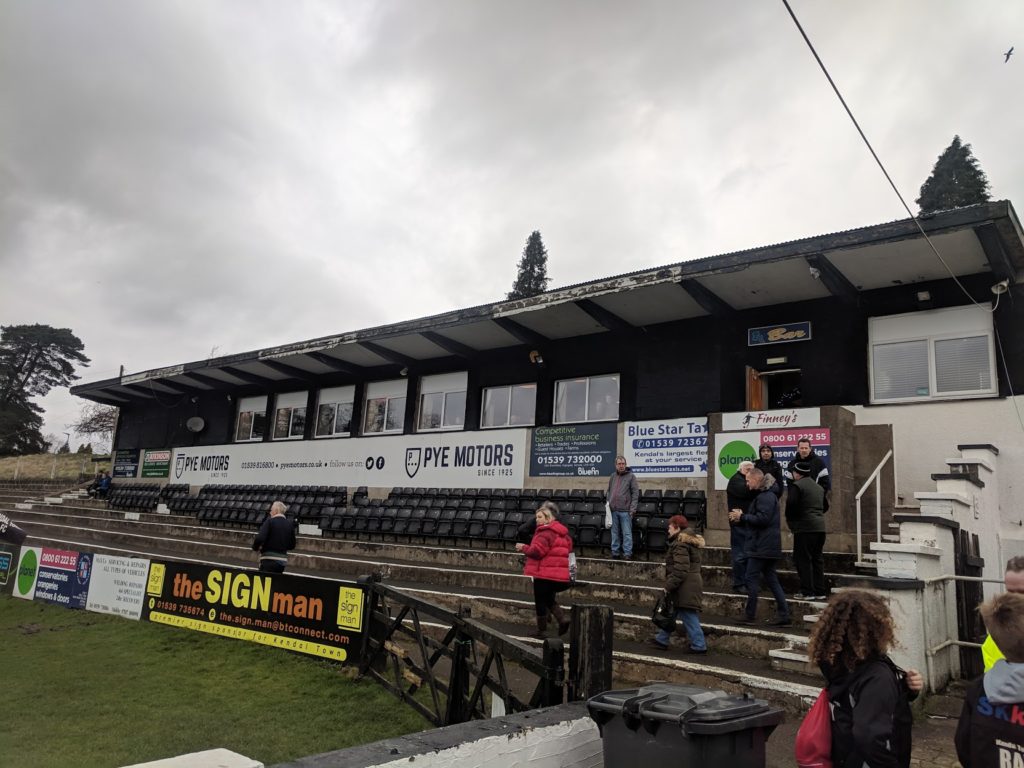 There's a bar and a clubhouse overlooking the pitch, which as the game progressed got more and more tempting. The weather was chilly to start, but by the end was bitter and it was pouring rain. I ended up catching a ride home with a friend of a friend.
Supporters had a covered… terrace… of sorts. Covered was all that really mattered, by the end. I actually poked around on the other side where there was more covered seating, but the crowd there was either unengaged, or engaged… to one the other squad's players.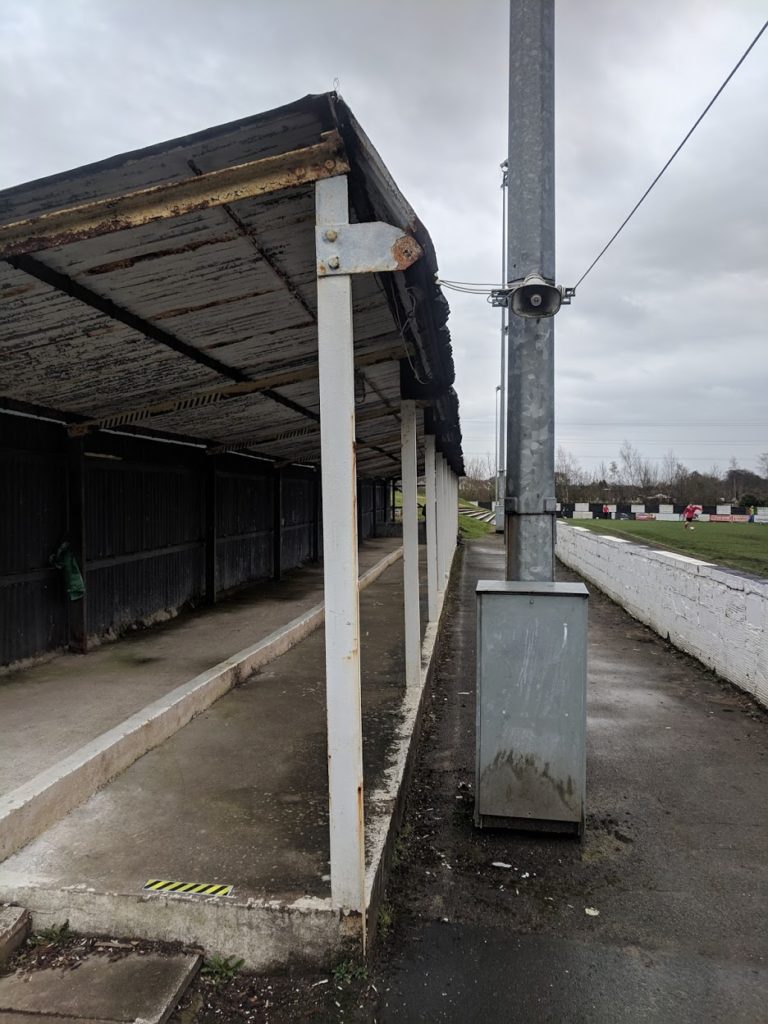 My view of the pitch: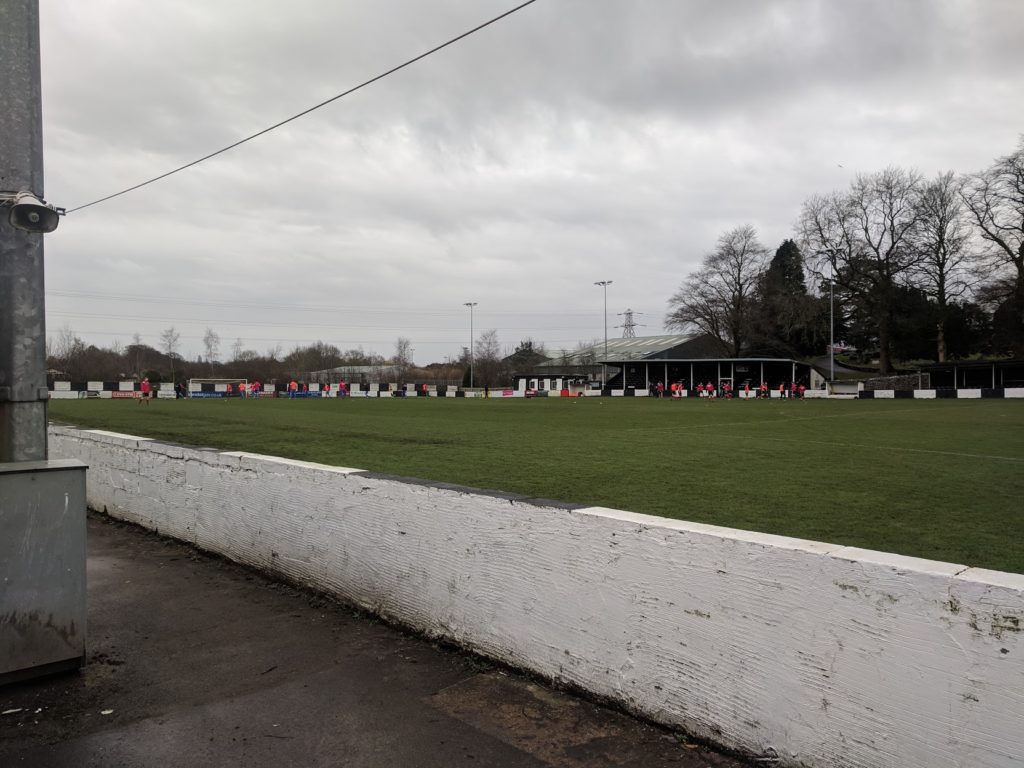 It was a hard-fought, scrappy game, made so much worse by the worsening conditions. Kendal opened up the scoring, but in the process knocked Market Drayton's keeper out of the game. After a lengthy wait, one of their defenders donned the keeper kit and play resumed for the first half. By halftime the score was even: one-one.
Kick off for the second half and within 30 seconds it's 1-2 for Market.
There was a real sense of defeat hanging around, even the fans who still supported the chairman seemed to know Kendal was not doing well. There were several conversations either overheard or participated in on the nature of support and supporting. Kendal was, for a moment, a microcosm of supporter culture throughout the world. Show up to support the lads? Or avoid giving money to a FO that doesn't care? There's no easy or right answer there.
Regardless, a defender handled a ball during a goal line scramble and Kendal got awarded the penalty. Fan-favorite Aaron Helliwell lined up, and equalized.
By now, Kendal was playing much better, much more aggressively and Market was started to back down from that challenge. And the rain kept falling.
Finally, on an early cross from just outside the box, Ryan Moore comes flying in and heads it straight past the keeper.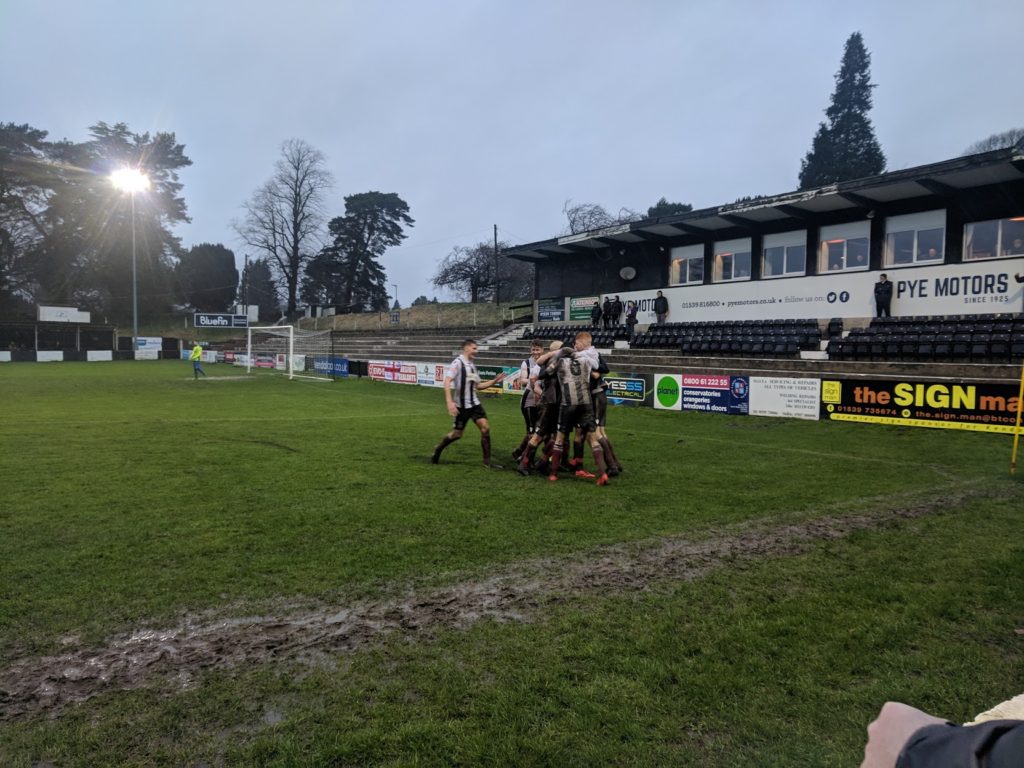 It was a long, long ten minutes plus stoppage in the cold and in the rain, but eventually three whistles came and Kendal Town had three points, three impossible points. And I leave England four for four, perhaps far better than I could've ever expected.
Tomorrow I start the journey home. I'm ready to go back home. A cold is setting in, I'm homesick, our cat is probably so pissed off, and I still don't get to see my Brigid again until the end of the week. Yet, this'll always have happened. And I will and do remember it fondly.
Until next time, England.
Cheers.