I've been getting a lot of work done on my fake world cup stuff, but recently Detroit City FC announced their 2017 charity match and charity: the Kalamazoo match 23. June will benefit Alternatives for Girls, a Detroit-based charity that helps homeless and at-risk girls and women in the city.
What a great group to be helping, and honestly what amazing possibilities for some awesome charity kits, right?
Right.
Listen, I designed more kits and I'm about to shove them down your eyeholes.
Anyway, I decided to guess what the 2017 Detroit City kits are going to look like. I have a bit of an advantage because I've possibly been tipped off to what they aren't but there are still a lot of unknowns. First is the possibility of a fourth set of kits hinted at debuting at the Glentoran match as throw-backs to the Detroit Cougars.
But, as a few of us agreed, there is the likely chance that there will still be only three sets – home, throw-back, and charity. I think this is what we will end up seeing. It keeps with tradition and doesn't saturate the market with unwanted kits.
So let's start with that throw-back. This isn't terribly hard, we already have a raging clue: Glentoran already unveiled their Cougar throw-back kits and they are white plus orange. From there it is easy to deduce that ours will be black and orange. Here it is folks, our first non-white secondary kits. That's pretty exciting. But what will they look like? Maybe something like this: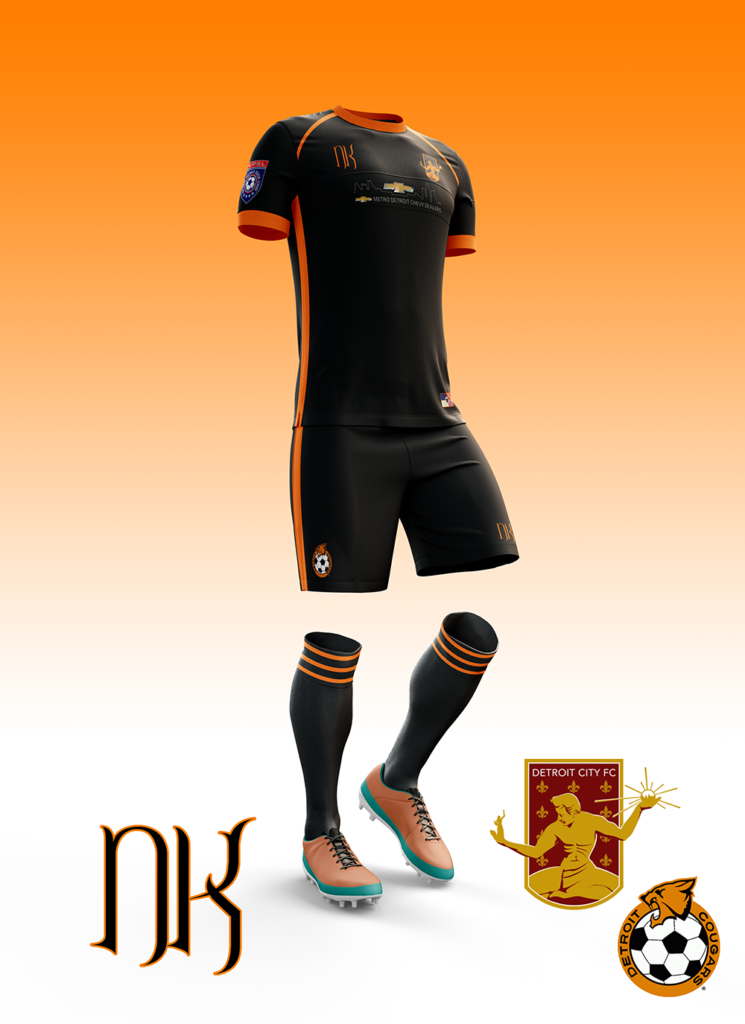 Simple black kits with orange trim/cuffing. Arm space is almost always reserved for the league and sponsors so I've put the Cougar's logo on the pant leg.
It would be strange seeing orange on our kits, of all things, but I assume that as throw-backs they'll be in for a season and out. Hopefully, though, the black stays and next season we can have some black on black on black kits.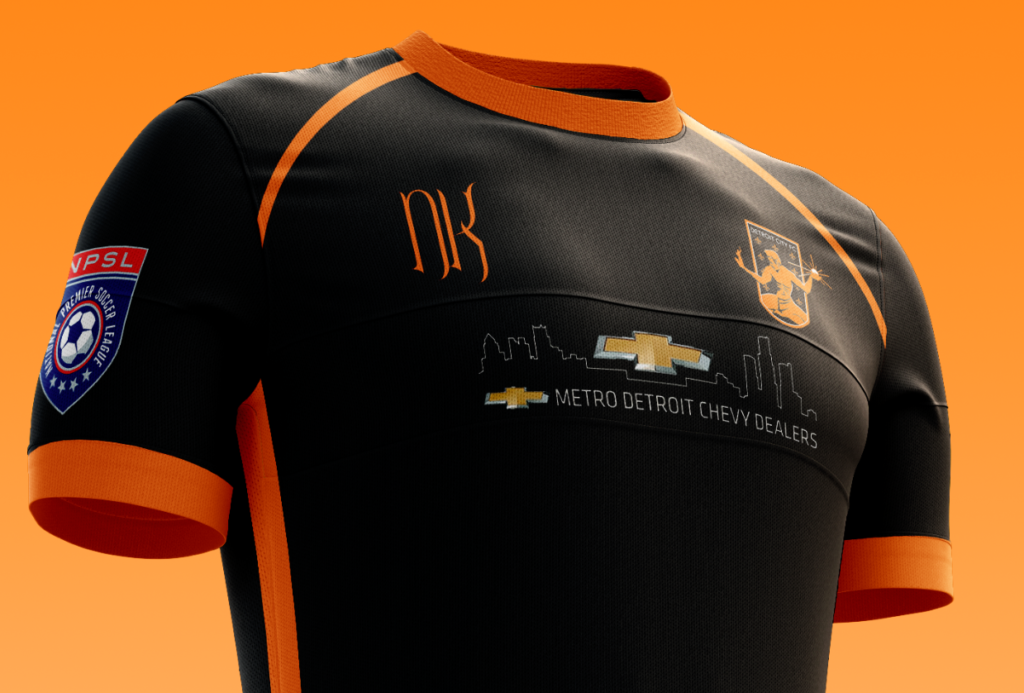 So we got a black and orange kit… what next? How about a pink and black charity kit!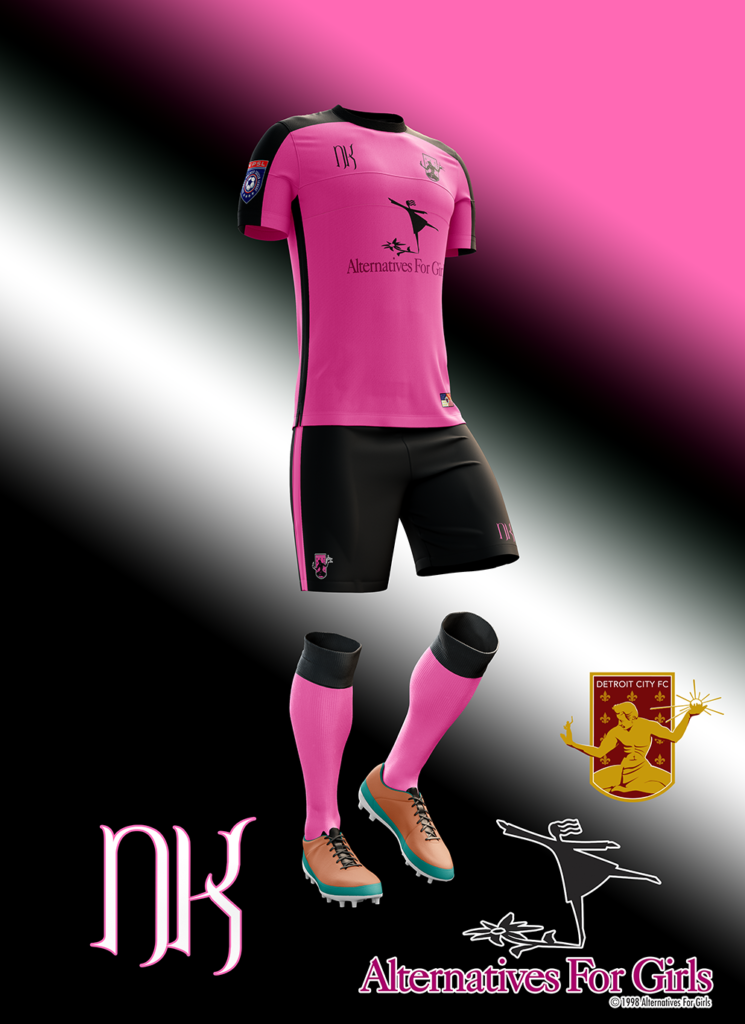 Our charity, Alternatives for Girls takes over on the chest of a stunning hot pink and black combination. I love, love, the idea of pink/black kits for Detroit City. If we do end up getting them, they will surely be hard to beat in the future.
Definitely check out the Alternatives for Girls site and give them a follow/like on your favorite social media site. Very excited to bring them into the DCFC family.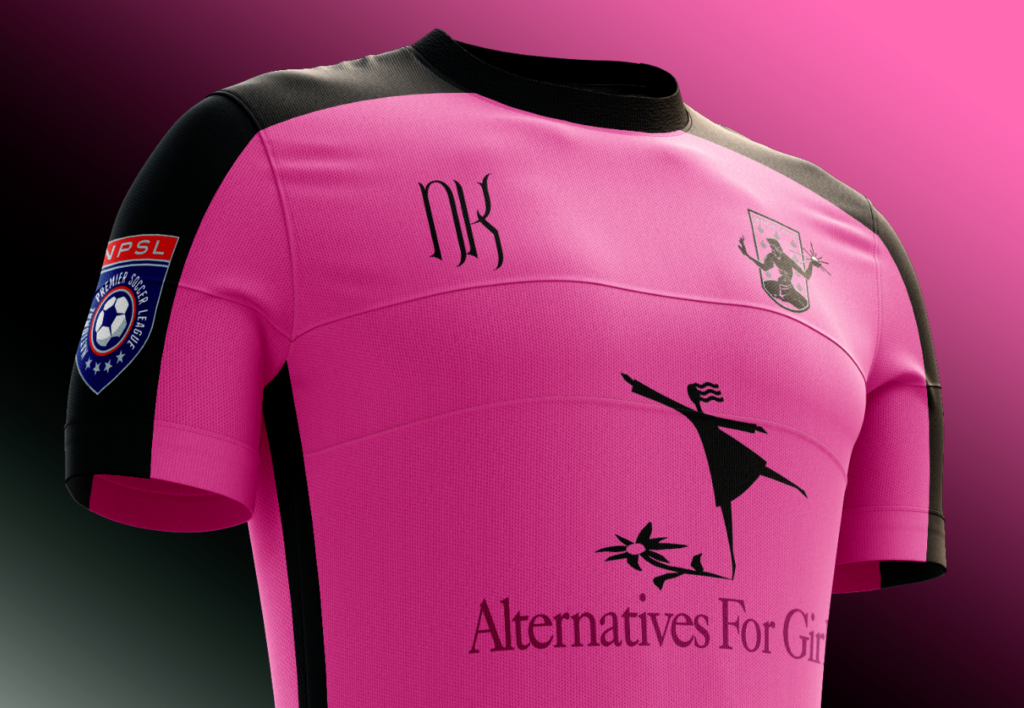 "That's all fine and dandy," you might be thinking. "But there's only one kit I care about" and you'd not be wrong.
I don't think you're right, but you're not wrong what with opinions and subjectivity and all, but you do you. I love secondary and alternate kits a lot as an expression of creativity. Home kits should be consistent, the others should shake it up from time to time a place to test what works and what doesn't. To throw metaphoric shit against the wall and see what sticks.
Anyway, the home kits: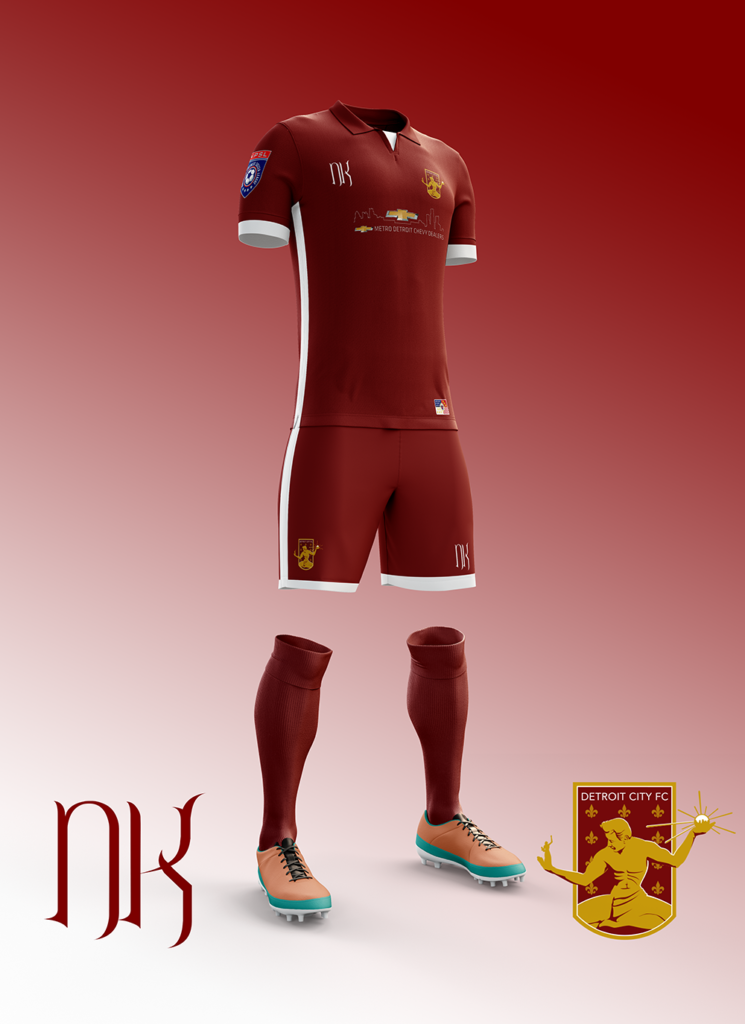 Rouge. Lots and lots of rouge. And a little bit of white. It's very similar to a design I posted a while ago, but I've added the collar so the home kit isn't just a ctrl+c, ctrl+v of last year's, which admittedly was very simple.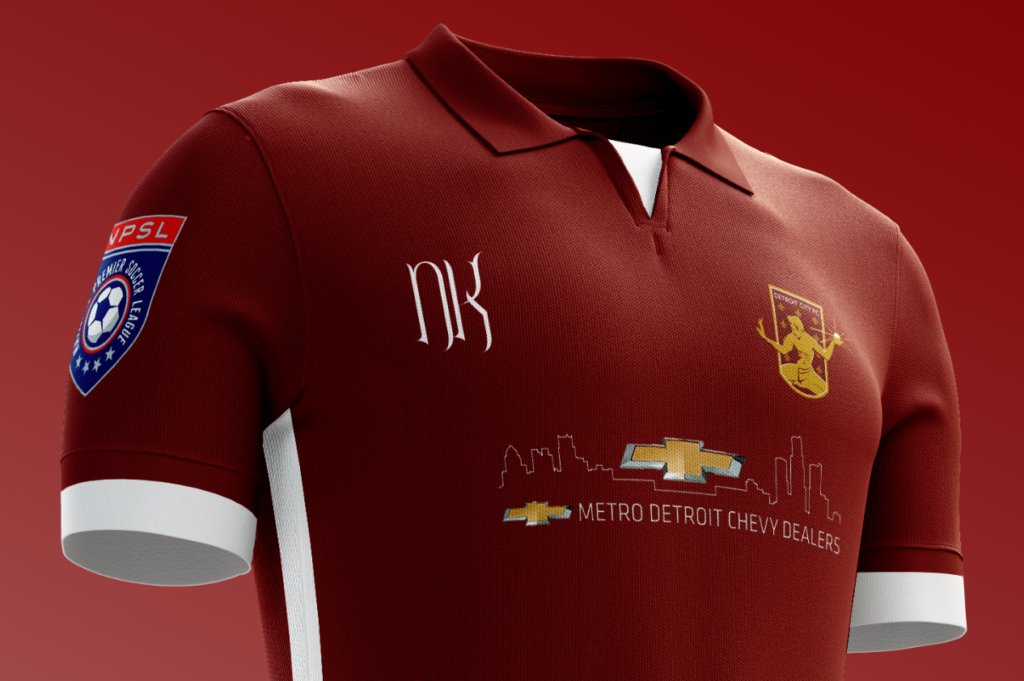 Anyway, that wraps up this "surprise" update. Hope you guys enjoyed and feel free to let me know what you think… or, alternatively if you are a kit manufacturer hire me.
Cheers, everyone.