How the Current American Soccer System COULD Implement Promotion and Relegation
If you're an American and a fan of soccer, you probably know that soccer leagues in other countries have something that is hard to imagine ever coming into existence within any US sports league: a system of promotion and relegation that rewards the nation's best Division 2 teams and punishes the worst Division 1 teams. Instead, we have a system that rewards the worst teams in Division 1 with the top choice of the best college athletes.
Major League Soccer (MLS) operates in a similar fashion. It's essentially the same in that the worst teams in MLS get the best picks in the SuperDraft, but different in that some college players are already spoken for if they once spent time playing for an MLS team's development academy. A fusion of traditional American sports systems and the soccer development systems of other nations.
If you follow me on Twitter, you might think that I dislike MLS, and for the most part that is incorrect. I like what the league has done to make American soccer what it is today. It's been a home and/or launching point for many US Men's National Team players and has potentially inspired many future American soccer players. Aside from that, I'm unsatisfied with the system that MLS operates in. One that isolates itself from other leagues and from any real competition, because MLS isn't a league that coordinates competition for independently-owned clubs. It's a corporation with 20 different franchises. Franchises that compete against each other for a trophy and bragging rights, but without any real winners or losers.
However, I'm a finance person and I understand that MLS ownership groups have made significant investments. Investments that I assume have projected costs and revenues over the course of many, many years that will at some point justify the tens-of-millions of dollars that have been paid out. In my mind, it would be wrong to significantly change the model of that investment, UNLESS the investors wanted it to change. But how could we make that happen?
Much like the aforementioned MLS SuperDraft, my proposal for US promotion and relegation is a fusion of American and foreign systems. What I propose is that the United States Soccer Federation (USSF) allow the North American Soccer League (NASL) to stop operating as a Division 2 league and start operating as a Division 1.5 league. A league in limbo that operates a system of promotion and relegation within itself. A league that is allowed to field 12 teams within Division 1 and its remaining teams in Division 2 (which would now be USL) while maintaining its current free-market principles. This would all begin in the year 2020, when we're told that MLS will have 24 teams, a claim I have no reason to doubt based on their current trajectory. Presumably, 12 MLS teams will play in the Western Conference and 12 in the Eastern Conference, and each of those sides, as part of a single-entity structure, would be exempt from relegation. The NASL would then field 6 Western and 6 Eastern clubs to complement the MLS teams, forming two 18-team conferences. Each team would play a 34-game season, a number consistent with the current MLS season length. Each team's season would be comprised of a home and an away match against each opponent within their respective conference. This would end inter-conference games with the exception of pre-season and playoff matches.
I don't view this plan as the perfect end game, but a step in the right direction. And there are plenty of specifics that the USSF, MLS and NASL would still need to negotiate. Would the NASL's free market teams be subject to any kind of Financial Fair Play rules? Would NASL teams be playoff-eligible? How many NASL teams would be relegated each year? Would any teams be relegated if, by chance, an MLS team finished at the bottom of the table? But here are the questions I'd like to take a shot at answering:
What might it look like?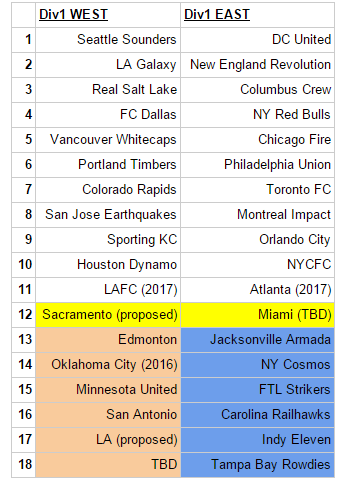 Why would the USSF want this?
Better exposure in more markets: More top tier teams means increased exposure of soccer to the public in more major US markets. For the Fall 2014 season, an average of 5,619 people showed up to NASL matches.  How will that number grow when Kaka and Orlando City show up to play Fort Lauderdale Strikers, or Frank Lampard and NYCFC show up to play New York Cosmos?
Better player development: Not only should increased exposure drive more kids wanting to be professional soccer players, having more more professional clubs incentivizes those teams to locate talent within their community at an early age.
Why would MLS owners want this?
Lower costs: As a supporter of a Division 4 team, one thing that is well known is that for an entire team of players, coaches and staff to travel to an opponent is expensive. Not just financially expensive, but taxing on the individuals. With the top tier split into two single-table conferences, those costs will be reduced.
Higher ticket sales: The other benefit of having your opponents closer on average is that your club will sell more tickets to "away day" support. Fans of San Antonio, Fort Lauderdale, Indy Eleven and Cosmos are certain to bring the stadiums of their MLS neighbors closer to a sell out.
Why would MLS want this?
Derbies!!!: If there's one thing we know for certain, it's that MLS and TV networks LOVE derbies. NYRB+NYCFC+Cosmos= Big Apple Derby. Orlando+Miami+FTL(+Tampa)=Florida Derby. San Antonio+Dallas+Houston=Lone Star Derby.  These things write themselves.
Same number of televise-able games:  Television rights contracts would still be between networks and leagues. And the teams within those leagues would have broadcast rights for their home games. As the number of MLS home games wouldn't change, the number of MLS games that could be televised would be the same under the 24 and 36-team models.
"Softball" teams: Theoretically, in the first seasons, NASL teams would not perform at the same level as MLS teams. I personally don't the feel this way, but many do. As such, MLS teams would likely see NASL teams as easy wins that will help them stay in playoff contention.
Legitimacy: It's apparent that MLS wants to maintain a European veneer. We see this in the naming of teams that include "FC" or "Dynamo", team crests that look like they belong in the Bundesliga, and the signings of EPL superstars like Henry, Lampard, and Gerrard. Operating in an environment that promotes and relegates teams should be a part of this, despite the fact that MLS itself will still have…
Security: Because although MLS would operate in a pro/rel environment, its teams and owners would be protected, as would their investments.
Why would NASL want this?
More televise-able games: It's inevitable that this would result in more NASL clubs being on TV. Whether that's the result of a separate TV agreement with the NASL or just ESPN wanting to show NYCFC host Cosmos, or Chicago Fire host Indy Eleven.
More clubs: It's also inevitable that more clubs will want to join the NASL if there is an avenue to being promoted to Division 1. This could be the handful of USL clubs that aren't wholly-owned by MLS franchises, are those that are willing to shed their MLS affiliation. But it could also be NPSL and other amateur teams that have the financial backing, the fanbase, and the drive to be something bigger.
This was a guest post from Kirk, a DCFC Ultra and an all-around swell guy. You can follow him on twitter: @Kirk_NGS.

Oíche mhaith, bitches.