This is probably going to be a bit more rambly than most posts on this site, but let's go ahead and deal with it anyway. I have a few topics and I don't think I can really make them stand-alone posts.
First – I've begun writing Book 2, which has already gone through a few working titles, but given that this is a total re-do we shall see what happens. Having previously written some 45,000-ish words in the previous version I already have a good sense of direction with this one. Hopefully I am not stuck too deep in the rails and I can move away from what I've got. Already two chapters have been condensed into what is now the prologue and the original prologue is actually the last chapter of Sun-King!
So yeah, that is off to a decent start but I had to say I've hit something I didn't really expect – it really sucks to not be working on Sun-King anymore. Like really weird. Same characters, same settings, same general direction and it just feels like I am in some strange foreign land. If I had to guess I would assume I am suffering from the shock of having total control again. When editing and rewriting chunks of Sun-King I obviously had laid rail before and was generally following the plan if only soothing some corners out.
Now I have total control again and that is really "weird" to me. Maybe I just need a few days away from writing. Maybe I just need a few days back at the helm of creating rather than editing. Either way it was not something I expected and it has made today rather lethargic (among other things, not going there).
So that is where the postpartum comes into play. I really don't like not working on it. Where is my baby? What is this blank sheet of a paper that I need to fill with brand new words? Fuck all this shit. Fuck it, I want to work on Sun-King some more.
But I can't.
Or at least I shouldn't. I need to move on. That is part of writing. Still. I miss it and I know in the back of my head another round of editing is still on the horizon.
O well. Moving on.
Soccer!
But Nick, the superbow-
Shut it.
Oh, so you're watching the superb ow-
Shut it.
We're talking soccer, because I care about soccer. I like gridrion. I care about soccer. It means stuff to me. Newcastle won. Celtic won. Kendal lost. And DCFC is moving forward.
Rumor has it that we are very close to running out of season ticket slots. It essentially implies we are on track to sell out every. single. game this summer. That is FUCKING AWESOME. If you disagree go fuck yourself. Little Detroit City, for whom I've had a place in my heart since day one.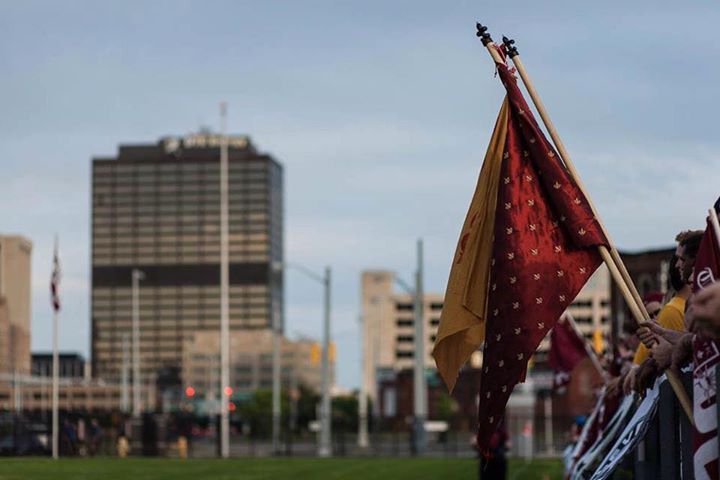 My friend Zak and I made those for our first game back in Season 1. I still have both and I just recently was talking with another fan and he mentioned a season 1 flag that was red with golden fleur de lis all over it. It was weird, strangely enough after the last few seasons, that this stood out. I'm really glad it did. It is a beautiful flag, it is too bad it isn't mine (it is Zak's even if I store it).
There is a lot going on. I can feel it. Then a few weeks the big news broke.
Check it out (25:30 in the cast).
The FO has been looking at moving up! This is great. I'm so glad to hear that and though I'm doing my damnedest to not get excited it is hard not to. Hard not to see it all paying off. Hard to not love what DCFC and the NGS have been able to put together from scratch. And from what I've heard Peter Wilt of the Indy Eleven is not a man who speaks lightly or rumormongers.
So fuck yes!
With tickets and the NASL in our sights, that leads to some speculation. Honestly my prediction is you won't see DCFC on the field in the NASL until 2018 or 2020. We need a new stadium. We need major sponsors. We need major names. We need a lot of stuff, including potentially new owners who have the cash. That means a lot of growing pains and a lot of issues that might follow. The NGS might look good on paper but when so many FOs would rather have Sally DoGood and her three cum-sprites in the stands paying $10 for a hotdog with mustard each and Richy DoGood paying $12 for a can of Miller Lite; the NGS (and I'm going to quote Hot Time in Old Town):
THE NORTHERN GUARD IS WHERE FAMILY-FRIENDLY ENTERTAINMENT WENT SLUMMING AND GOT STOMPED BIKER-STYLE INTO INTENSIVE CARE
When one of your loudest mottos is "We're ruining football and we don't care" you aren't a great target for rich, white suburbanites. Or at least that is what people thought until we sold out twice and nearly sold the entire allotment of season tickets three months before kick off.
The Northern Guard has a duty to stand between squatters and the club and ensure that despite ruining football, we don't ruin DCFC as well. I don't think that is really at risk. I can't say with a straight face that DCFC is "less" because of the NGS. Less family friendly? Yes. Less TV friendly? Yes. But less? Less as a whole? Absolutely not. Absolutely not.
Tomorrow the season schedule should be out. There are some major mix-ups apparently. Then, Wednesday, we go to see Victory and grill the ownership at the Q&A. That will be mind-opening to say the least. Finally, Friday night, Midnight Madness as the NGS invades the try-outs.
This is a great week to be a DCFC fan.
Oíche mhaith, bitches.