Maidin mhaith, motherfuckers.
NGS' foremost photographer,  Dion, has spent this morning keeping everyone in the City spirit. When I am in the City spirit I like to think about time spent prepping, time spent hanging out, time spent bathed in sulfur and fire, and time spent after a match (win or lose) sitting on the benches long after the normal people go home. All photo credits go to Dion.
I love it.
Makes summer go by way too fast.
I have and will keep talking about soccer in the terms of an ultra, because that is what I am. To me there are essentially five levels of fandom (and there is certainly some grey and some crossover):
Fair-Weather Fan
Fan
Supporter
Ultra
Hooligan
Some of these the average American reader will get instantly, others they might have the wrong idea, and for others there is literally no idea. They might think they know what an Ultra is, but no. They just don't. So lets go over them all so in the future we'll be speaking the same language.
Fair-Weather Fans exist in every sport and every culture. Americans know this one as well as anyone else. But for consistency let's talk about these spineless fucks. Fair-Weather Fans are the reason that a stadium is empty on a bad season and full on a good season. Hell, they might not even show up themselves, but suddenly their desk will have a little "Lions" sign when we're 11-4 and a picture of fishing with the kids when we are 4-11.
We all hate these guys because they belittle the energy of a good season and amplify the hurt when you lost the big game. To see someone so easily flick the switch from "on" to "off" makes you question your own commitment. If that is "normal" why would you put that energy in yourself?
The only time you should deal with Fair-Weather fans is if you think you can upgrade them to…
Fans. See what I did there? That's called a fade. Anyway.
From where I sit "Fans" are those people who go to one or two games a year. Maybe more, but they aren't certain and after the game the energy the spend on being a fan is pretty low. They don't turn completely off, they might save tickets to great games, they might have some well-worn gear, and win or lose they always have that picture of them and their family sitting in the stands.
Not everyone can be a supporter. Not everyone can spend that sort of time, money, sweat, and blood. We understand that. If Ultras are the Imperial Guard, fans are the rank and file solider. We see them as comrades in arms, but we also know that they are more worried about getting home in time for dinner than drinking with the team.
Never turn down the company of a fan. Who knows, maybe that big project will end and you'll have a new supporter on your hands. These are the people who look up to you and look to you to make their day great.
Supporters are the next level. When I talk "supporter" I mean the average member of the Northern Guard.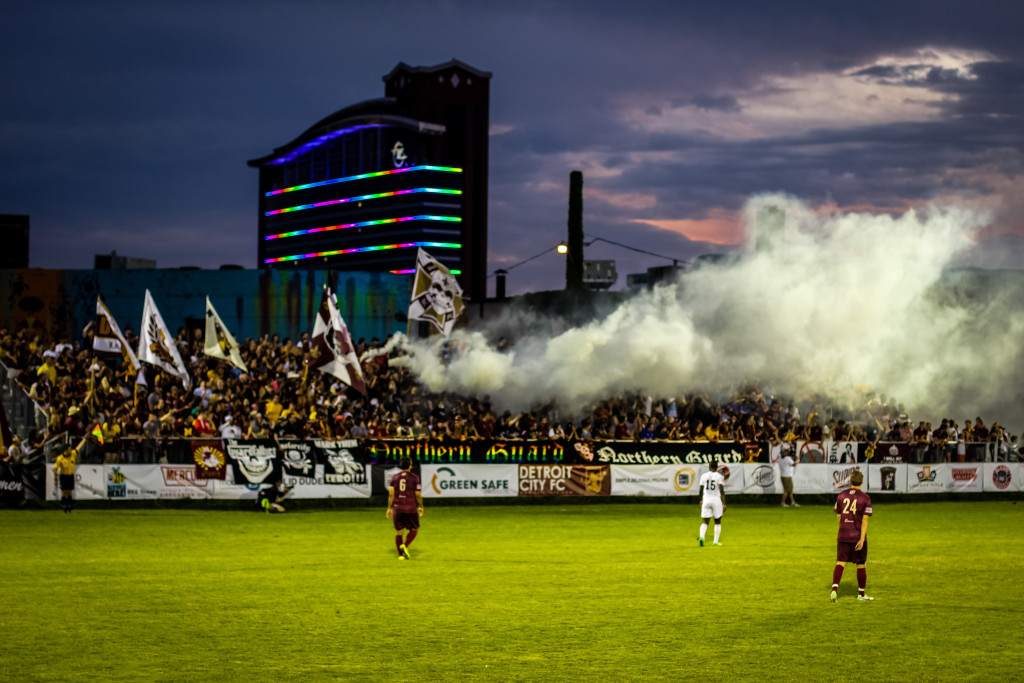 For supporters the team is more than a team. The pitch is more than a pitch. The badge is more than a badge. It is who they are. It is a commitment. It is a piece of who they are. They might not return with too many souvenirs, but they hardly miss a game. They never go home with a voice. They've spent countless hours at the bar beforehand and afterwards. They've been to a scrimmage, they've been to a social gathering. They order season tickets the second they come out and they always get an extra for whoever they are dragging with them that day.
A supporter's passion, enthusiasm, spirit, and  their over-brimming joy just to be there converts many, many fans into more supporters. They might not know who makes the flags or how. They might not want to be too close to the smoke when it goes off. But they want to be there. A supporter gets strength and energy from being in the thick of it. A supporter moves a thousand miles away and never forgets, never moves on.
A supporter doesn't ditch to catch a "more important" game.
Because there isn't a more important game than the one going on right now. So if that is what a supporter is, what does that leave for Ultras?
Ultras are what supporters congeal around. Ultras don't miss games willingly. They might get dragged into family matters, or deal with work and school but they'd always rather be at the field. They apologize for missing that 1-3 loss like they were the reason we lost. An Ultra always uses "we" to refer to the team.
Ultras run the blogs, take the pictures, make the flags, bring the smoke, plan the tifos, write the songs, harass the other guys on twitter, follow the team in the cold months between seasons, march in freezing weather on Paddy's day. They bring drums, they bring trumpets, they are the first to arrive and the last to leave, often only after helping pick up trash.
An Ultra never stops supporting. Long after the songs have quieted, long after the field goes back to high school gridiron, they are still telling people about the great game or the last game and you'd swear it was yesterday. There is a sparkle in their eye that only exists when talking about their team. Even if the team fades away. An Ultra picked their side, they won't change it lightly.
Hooligan has two definitions, and this often leads to confusion when talking across the pond. The American definition of "hooligan" is generally the same as an Ultra or Supporter who's had a few too many. For an American, a Hooligan is that fan who curses and yells and gets thrown out. In Europe hooliganism is something much worse. A hooligan there is someone who comes to the game looking for a fight or to start a riot. So that is how "Hooligans for Heroes" in America is a completely positive thing (check them out, it is a charity that supports wounded veterans through soccer events).
Ultras and Supporters in the United States might often use the term "hooligan" to refer to themselves, but if you are European or just more used to the European phrase, understand that 99% of Ultras and Supporters in the US are committed to eradicating hooliganism. Violent or unruly people are often removed from the stands. Racist, homophobic, or otherwise discriminatory language is nearly universally banned.
As an added bonus let me also talk about Squatters. A "squatter" can be any of the above but there is one problem: they aren't loyal to a team, they are loyal to a league or a future. A Squatter will come and cheer, they might even bring a drum or hang some shitty banners made on bed sheets. But don't be fooled. They aren't there to support the team that is playing. They are there to support getting a "better" team (usually an MLS team in soccer) to replace the one on the field.
Usually the first sign is that their group colors clash with those of the team they are rooting for. The second is they often distance themselves on their public media from the team. They talk a lot about "growing the game" and their news might concern anything but the team. They are really fond of teams like Seattle, Orlando, and Atlanta despite the fact that two of those teams have never played a game in MLS and one has never played a game ever.
Often they don't see "what the big deal" is. They talk about quality of play and how cool it'll be when they are all on TV. If you call them out for squatting they might quickly release their gear in team colors but they never change their logo.
A lot of fan conflict in American soccer is between Ultras and Squatters because despite a long history of soccer and soccer leagues in the country, to 99% of Americans it started in 1993 with the MLS. And that's how you get a tier-four team with more history than an entire league put together.
Edit:
Dion and I have been chatting about squatters because that's what we do. He's made some good points so here are some updated thoughts.
First, some squatters are good at blending in. So they might wear the team colors and you'll only tell they are squatting from actually talking to them. In Detroit the squatters here wore the colors of an old team (Blue and Orange) which clashed very obviously with Rouge and Gold.
Squatting, like any opinion is also not permanent. Someone might go "I only root for MLS. Oh, wow. This is awesome" and never look back. Don't think that a squatter is a lost cause. They are just misguided.
Fair-Weather fans are often likely to be a "low-level" or "passive" squatter, though maybe unconsciously. In America there is usually only tier-one sports. They don't understand that anyone would root for anything but a tier-one team. I don't give them much grief for this, its annoying – sure – but they assume that this is what everyone wants. It is your job as a supporter or an ultra to tell them why this is wrong, and to do so constructively.
But you should know that already. Supporters and Ultras should want more people to become crazy like them. This isn't supposed to be an elite club of people who "get it." The team needs fans and fair-weather people to survive. Season tickets are often heavily discounted. If you support a team you want to keep supporting that, and that means tolerating anyone willing to cash in. Except active squatters. Fuck active squatters.